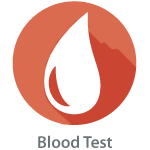 Detect problems before they become troubles.
Our first line health profiles are specifically tailored to provide a picture of how various aspects of the body is looking, functioning and performing.
The hormone human chorionic gonadotropin (better known as hCG) is produced during pregnancy. It is made by cells formed in the placenta, which nourishes the egg after it has been fertilized and becomes attached to the uterine wall. The levels of this hormone can be detected by a blood test.
A Blood Profile Report including any measurements.
How do I Prepare for this Test?
What Does The Blood Test Involve?
This blood test is just like a routine blood test.
You will be asked to uncover you left or right arm and suitable vein is found. A tourniquet will be placed and tightened around your upper arm allowing the veins to swell and a needle will be placed into your vein. A small quantity of blood is then drawn into tubes. Once the procedure is complete a small plaster will be placed onto the site which can be removed after a few hours. 
We will require details of your GP / Health Care Professional, which may be requested prior to or at the time of the scan.
Blood results require interpretation. All results should be interpreted by your regular health care professional / GP.
We offer a wide range of pregnancy ultrasound scans as well as blood profiles, please feel free to have a look over the complete range by following the quick links below.