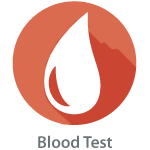 Detect problems before they become troubles.
Our first line health profiles are specifically tailored to provide a picture of how various aspects of the body is looking, functioning and performing.
This blood test profiles:
Toxoplasa Antibodies (IgG, IgM)
Rubella Antibody (IgG, IgM)
CMV Antibody (IgG, IgM)
Herpes Antibody (HSV/HSV2 IgG)
A Blood Profile Report including any measurements.
How do I Prepare for this Test?
What Does The Blood Test Involve?
This blood test is just like a standard blood test.
You will be asked to uncover you left or right arm and suitable vein is found. A tourniquet will be placed and tightened around your upper arm allowing the veins to swell and a needle will be placed into your vein. A small quantity of blood is then drawn into tubes. Once the procedure is complete a small plaster will be placed onto the site which can be removed after a few hours. 
Blood results require interpretation. All results should be interpreted by your regular health care professional / GP.
We will  require details of your GP / Health Care Professional, which may be requested prior to or at the time of the service.
We offer a wide range of pregnancy ultrasound scans as well as blood profiles, please feel free to have a look over the complete range by following the quick links below.