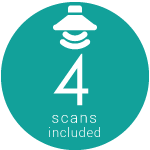 40+ Point Health Assessment
Includes Upper Abdomen, KUBP, Pelvis & Abdominal Aorta Scans and extensive blood tests.
Detect problems before they become troubles.
Our first line health profiles are specifically tailored to provide a picture of how various aspects of the body is looking, functioning and performing.
We will evaluate & assess the major abdominal and pelvic organs:
Ultrasound Scans
Pancreas
Liver
Gallbladder
Biliary Tree
Kidneys
Spleen
Ureters
Bladder
Prostate (size)
Testicles
Aorta Aneurysm Check
+
Blood

Full Blood Count

+ 5 part Diff

Erythrocyte Sedimentation Rate (ESR)
+
Liver Function

Alanine

Aminotransferase

(ALT)

Alkaline

Phosphatase

(ALP)

Aspartate

Aminotransferase

(AST)

Bilirubin
Gamma GT
Uric Acid
+
Kidney Function
Creatinine
Urea
Uric Acid
Albumin
+
Electrolytes
Sodium
Potassium
Chloride
Bicarbonate
+
+
+
+
HDL / LDL Cholesterol Check
Cholesterol
Triglycerides
+
Prostate Check
Total PSA
Free PSA
+
Male Hormones
Testosterone
+
Thyroid
FT4
Thyroid Stimulating Hormone (TSH)
+
Iron
Iron
Total Iron Binding Profile
Ferritin
+
+
Tissue Damage
Lactate Dehydrogenase
+
Muscle Damage
Creatine Kinase
Diagnostic reports including all measurements.
How do I Prepare for this Test?
What Does The Assessment Involve?
The assessment involves ultrasound scans and blood tests.
During the scan you will be asked to uncover your abdominal area and a small amount of jelly will be placed over your skin. An ultrasound camera will then be placed on top and moved along your abdomen. This will result in a picture appearing on the ultrasound monitor and patient TV. The examination itself usually lasts around 10-15 minutes and is pain free. At the end of the examination a brief explanation of the results may be offered. A formal ultrasound scan report with any recommendations will be sent to you which you can take to your regular healthcare professional.
This blood test is just like a standard blood test.
We will require details of your GP / Health Care Professional, which may be requested before or at the time of the scan.
This scan requires access to the area of interest; therefore, it is recommended to wear loose clothing to facilitate this process.
Study images may be available at an additional charge – more information and to request this can be found by

 

clicking here

.

 
All our first line ultrasound scans are optional. You must be at least 16 years old and you should have no existing medical condition or treatment pending that relates to the scan you are booking. If you are in any doubt about having any type of scan, you should consult your GP.