You've now reached the end of your first trimester, and things are starting to get rather exciting. The dating scan provides you with the chance to see your baby on the screen, which is always a magical experience, particularly if it's your first child. It's also the opportunity to find out the approximate date of your baby's arrival.
At our dating scan, you'll be made to feel comfortable and relaxed; after all, you want to enjoy the experience and take your time. We'll provide you with two images of your baby.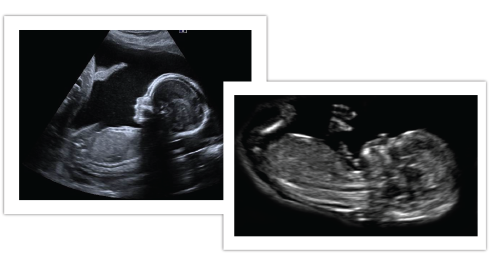 What is the main objective of the dating scan?
How do I Prepare for this Test?
Please note
Please bring your pregnancy book with previous scan results to your appointment as we will not be able to scan you without them.
All scans are performed to accomplish the main objective only.
Sometimes at the scan, we may not detect the heartbeat or can visualise the fetus on the screen. In such instances, this could be because it's too early for the ultrasound scan to detect the pregnancy or could indicate that a miscarriage has occurred. In the event of this happening, please be reassured that our trained staff are on hand to offer advice and guidance on next steps. 
Twin / multiple pregnancies incur an additional charge of £30.
This scan does NOT include NIPT or Down's syndrome screening. It will not screen for Down's Syndrome or other genetic abnormalities. Our NIPT test can be found here.
We may require details of your GP / Health Care Professional which will be requested from you before or at the time of your scan.
Our pregnancy scans do not replace or substitute any scan you have or will have with the NHS / maternity care provider.