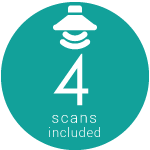 40+ Point Health Assessment
Includes Upper Abdomen, KUBP, Pelvis & Abdominal Aorta Scans and extensive blood tests.
Detect problems before they become troubles.
Our first line health profiles are specifically tailored to provide a picture of how various aspects of the body is looking, functioning and performing.
We will evaluate & assess the major abdominal and pelvic organs:
Ultrasound Scans
Pelvis
Uterus
Ovaries
Endometrium
Pancreas
Liver
Gallbladder
Biliary Tree
Kidneys
Spleen
Bladder
 
Aorta Aneurysm Check
+
Blood

Full Blood Count 

+ 5 part Diff

Erythrocyte Sedimentation Rate (ESR)
+
Early Detection of Ovarian Tumour
HE4 / CA125 / ROMA
+
Liver Function

Alanine 

Aminotransferase 

(ALT)

Alkaline 

Phosphatase 

(ALP)

Aspartate 

Aminotransferase 

(AST)

Bilirubin
Gamma GT
Uric Acid
+
Kidney Function
Creatinine
Urea
Uric Acid
Albumin
+
Electrolytes
Sodium
Potassium
Chloride
Bicarbonate
+
+
+
+
Thyroid
FT4
Thyroid Stimulating Hormone (TSH)
+
Iron
Iron
Total Iron Binding Profile
Ferritin
+
+
HDL / LDL Cholesterol Check
Cholesterol
Triglycerides
+
+
Tissue Damage
Lactate Dehydrogenase
+
Muscle Damage
Creatine Kinase
Diagnostic reports including all measurements. and risk scores.
How do I Prepare for this Test?
What Does The Assessment Involve?
The abdomen is commonly a source of many problems, some of which can be detected by a simple abdominal ultrasound scan. Many problems such as gallstones, kidney stones, cysts can be detected during this scan. This scan is often requested by physicians at the early stages following a complaint or abnormal test results such as a blood test and can provide valuable & vital information. Often time is of the essence in many health conditions and seeking early medical advice & services may allow for better outcomes. 
Many of our clients choose to book an ultrasound scan with us after having been referred for an abdominal scan in the NHS by their GP however are unwilling to wait for a scan appointment within the NHS, which can be many weeks. Going privately bypasses this allowing quicker & more convenient appointments & faster results.
We offer flexible & convenient appointments suited around you and your life with clinics running during the day, evening and weekends. 
We will require details of your GP / Health Care Professional, which may be requested before or at the time of the scan.
This scan requires access to the area of interest; therefore, it is recommended to wear loose clothing to facilitate this process.
Study images may be available at an additional charge – more information and to request this can be found by

 

clicking here

.

 
All our first line ultrasound scans are optional. You must be at least 16 years old and you should have no existing medical condition or treatment pending that relates to the scan you are booking. If you are in any doubt about having any type of scan, you should consult your GP.